Yum! Corn on the Cob!!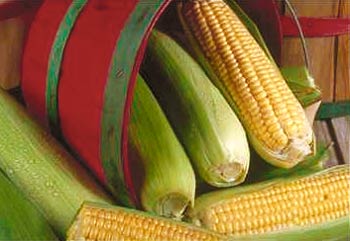 Sweet Corn
Sweet corn should be harvested in the morning if
possible and eaten that day. Obviously if you don't
grow it yourself, this is hard to do. Check your area
for farmer's markets and roadside stands where you
can ask when it was picked to get the best corn. It
can lose half of it's natural sugar within the first 24
hours. The kernels should be medium in size, not
small and immature or large and starchy. The husk
should be fresh and green looking, not dried. As
soon as you return home refrigerate the corn in the
husk, if you aren't going to cook it immediately. Place
in unsealed or perforated plastic bags and husk right
before cooking.

Herb Butter Roasted Corn

Ingredients:
8 fresh ears of corn, husks left on, silks removed
3/4 cup butter softened
1 1/2 tbsp. minced fresh parsley
1 1/2 tbsp. fresh lemon juice
2 1/2 tbsp. minced green onion
1/2 tbsp. salt and pepper
dash of Tabasco and Worcestershire sauce

Mix all ingredients, except corn, and refrigerate
for at least 1 hour. Spread each ear of corn with
one tablespoon of herb butter. Wrap each ear in
foil. Roast corn on grill or broil 4 inches from heat
30 min or until kernels are tender. Unwrap, detach
the husks and spread with remaining butter.

Country Fried Corn

Ingredients:
4 slices thick sliced bacon
1/2 small onion, chopped
8 ears fresh sweet corn
salt and pepper to taste

Fry the bacon until crisp, drain it on paper towels
and pour off all but 2 tablespoons of fat. Diced the
cooked bacon and set aside. Add the onion to the
fat in the skillet and cook until soft. Husk the corn,
cut the kernels from the ears and scrape the cobs
of the moisture into the pan. Add the corn to the
onions in the skillet and cook for 2-3 minutes. Add
bacon, season with salt and pepper.

Herbed Corn on the Cob

Ingredients:

4 ears sweet corn, unhusked
1/4 cup butter, softened
1/2 tsp. basil
1/2 tsp. oregano
1/4 tsp. salt
1/4 tsp. pepper

Preheat oven to 375 degrees. Cut out four large
squares of aluminum foil. Peel back but do not
remove the corn husks to remove the silk. In a
small bowl, blend together the butter, basil, salt,
oregano and pepper. Spread about 1 tablespoon
of the herb butter on each ear of corn, then close
the husk back around the corn. Wrap each ear of
corn tightly in foil and bake for 30 minutes or until
tender.

Honey Corn on the Cob

Ingredients:
8 fresh ear sweet corn
8 tbsp. room temperature honey
8 tbsp. Olive Oil
1 clove crushed, minced garlic

Clean and remove husks and silks from the corn.
Cook in a pan of boiling water for 10 minutes or
until tender. Drain the corn and pat dry with paper
towel. Whisk together the honey, oil and garlic.
Place the cooked corn on a heated grill and brush
with the glaze, turning frequently as you glaze. Do
this for about 1-2 minutes until the corn is glazed
and browned.

Fresh Corn Salad

Ingredients:
4 to 6 ears of fresh sweet corn
1 each red, yellow and green bell pepper, seeded, sliced thinly
1 medium sweet pepper cut into thin rings
1 stalk of celery, chopped
1/2 cup chopped fresh cilantro
1 fresh Jalapeno pepper, seeded and minced

Cut the corn from the cob and put into a bowl with the
remaining ingredients and toss lightly. Serve with the
following dressing.

Vinaigrette

Ingredients:
fresh lime juice from one lime
1/4 cup olive oil
1 teaspoon sugar
1/2 teaspoon chili powder
2 to 3 cloves of garlic, very finely minced
2 tablespoons of finely minced fresh mint leaves
salt and fresh coarse ground black pepper to taste

Place all ingredients into a jar with a tight fitting and
shake well. Drizzle over the salad just before serving.
Lets do something with all those zucchini!!
OVEN FRIED ZUCCHINI STICKS

2 (8 oz.) zucchini
1 lg. egg
1 tbsp. water
1 c. coarse cracker crumbs (saltine)
2 tbsp. margarine, melted
Salt
Pepper

Trim unpeeled zucchini and cut into sticks about the size of french
fried. Sprinkle with salt and pepper. Beat eggs with water; roll
each zucchini stick in egg mixture and then in cracker crumbs. Place
on wire rack while oven heats to 400 degrees. Place coated zucchini
on a baking sheet and spoon butter over. Bake 15 to 20 minutes until
tender and lightly browned. Makes 4 servings.

==

CRACKER CRUMB FRIED ZUCCHINI

Zucchini
Flour
1 egg
2 tbsp. milk
Crushed salted cracker crumbs

Slice zucchini 1/3 inch thick. If larger zucchini are used, peel and
remove seeds. Shake zucchini in paper or plastic bag with flour,
enough to coat well and lay on waxed paper. Beat egg and milk. Dip
floured zucchini rings in egg and roll in crushed salted cracker
crumbs. Fry in hot oil, about 1/2 inch in pan. Turn over when
nicely browned. Place between paper towels to drain oil. Then
serve.

==

ORANGE ZUCCHINI CAKE

1 c. all-purpose flour
1 tsp. baking powder
1/2 tsp. baking soda
1/4 tsp. salt
1 tsp. ground cinnamon
1/2 tsp. ground nutmeg
3/4 c. sugar
1/2 c. vegetable oil
2 eggs
1/2 c. All Bran cereal
1 1/2 tsp. grated orange peel
1 tsp. vanilla
1 c. grated zucchini
1/2 c. chopped nuts
1/2 to 3/4 c. raisins (opt.)

Combine flour, baking powder, soda, salt, cinnamon and nutmeg. Set
aside. In large bowl, beat sugar, oil, eggs until well combined.
Stir in cereal, peel, vanilla. Add flour mixture, zucchini and
nuts. Mix well. Spread evenly in greased 10 x 6 x 3 inch (1 1/2
quart) glass baking dish. Bake at 325 degrees for 35 minutes or
until wooden pick inserted near center comes out clean, cool
completely. Spread with orange-cream cheese frosting. Yield: 12
servings

==

STUFFED ZUCCHINI PARMESAN

1 1/2 lbs. small zucchini
1 1/2 c. fresh bread crumbs
3/4 c. grated Parmesan cheese, reserve 1/4 c. for topping
1/4 c. minced onion
2 tbsp. chopped parsley
1 tsp. salt
1/8 tsp. pepper
2 eggs, beaten
2 tbsp. marg.

Scrub zucchini well, cut off ends, but do not pare. Cook whole with
1 teaspoon salt in boiling water, covered until tender (about 5 to 7
minutes). Preheat oven to 350 degrees. Cut zucchini in half,
lengthwise. Carefully remove squash from shells with spoon. Chop
into small pieces, then combine with remaining ingredients except
butter and 1/4 cup cheese. Pile mixture lightly into zucchini
shells. Dot with margarine. Sprinkle with 1/4 cup Parmesan cheese.
Bake, uncovered, 30 minutes or until light brown on top.

============================

FRESH MARINATED VEGETABLE SALAD

1 1/2 c. sliced fresh mushrooms
1 1/2 c. cherry tomatoes
1 1/2 c. sliced zucchini
1 1/2 c. sliced carrots
1 1/2 c. onions
1 1/2 c. pepper chunks
1 1/2 c. broccoli florets
1 1/2 c. cauliflower florets

DRESSING
1 tsp. garlic powder
1 tsp. salt (more or less)
1/2 tsp. pepper
1/2 tsp. dry mustard
1 tsp. chives
2 tbsp. red wine vinegar
1 tbsp. fresh lemon juice
2 tbsp. olive oil

Place veggies in bowl. Mix dressing and pour over. Refrigerate 2
hours.

===

ZUCCHINI LASAGNA

3/4 lb. lean ground beef
1/2 c. finely chopped onion
2 cloves garlic, crushed
16 oz. can plain tomato sauce
1/2 tsp. basil
Salt and pepper to taste
3 to 4 med. zucchini, unpeeled
8 oz. low-fat cottage cheese
1 egg
6 oz. part-skim Mozzarella cheese, grated

In a large skillet, brown beef, breaking it up as it cooks. Drain
fat. Add onion, tomato sauce and seasonings. Simmer uncovered 10
minutes, stirring occasionally. Spray a non-stick baking dish
approximately 8 x 12 inches) with cooking spray (or wipe lightly with
vegetable oil). Remove ends of zucchini. Cut in quarter-inch thick
slices. Arrange half the slices over the bottom of the baking dish.
Beat together cottage cheese and egg; spread over zucchini in baking
dish. Top with a layer of half the meat sauce and half the
Mozzarella. Layer remaining zucchini, Mozzarella and meat sauce.
Bake uncovered 40 minutes in a preheated 350 degree oven. Let stand
10 minutes before serving. Makes 4 servings.


Baked Zucchini Gratin
1 onion, sliced
2 lbs zucchini, sliced
1/2 cup butter, melted and divided
2 cups shredded mozzarella cheese
1/2 cup bread crumbs
1/4 cup grated parmesan cheese
In a lightly greased 2 quart baking dish, layer onion and zucchini.
Drizzle
with 1/4 cup butter; sprinkle with mozzarella cheese. In a separate
bowl,
combine remaining butter, bread crumbs and parmesan cheese. Sprinkle
crumb
mixture evenly over the top. Bake uncovered, at 350 degrees for 35 to
40
minutes or until zucchini is tender. Serves 8